Mold in your Northeast Collin County/Greenville TX Home
3/4/2020 (Permalink)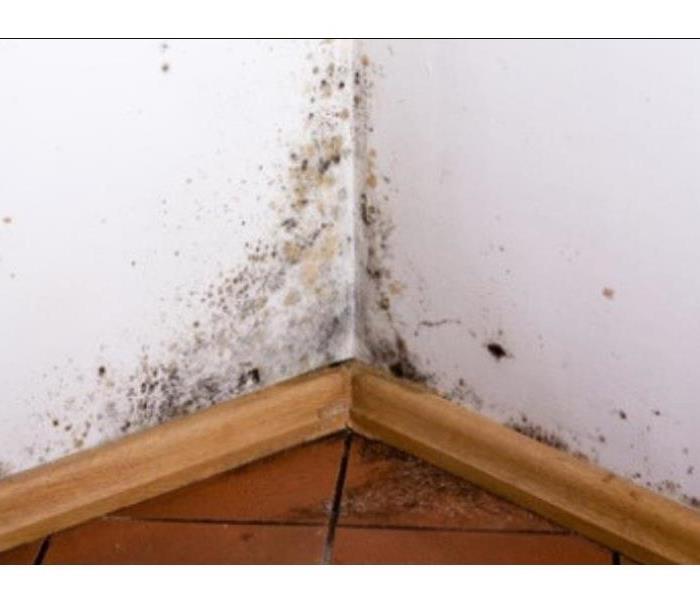 Mold may not always be this obvious. If you suspect you may have growth in your home, call our certified experts at 972-548-6044.
ALL ABOUT MOLD
Mold is a type of fungus. Mold flourishes with moisture and reproduce through spores that travel through the air. Mold is usually harmless in small amounts but when they land on a damp spot in your home, they can start to grow. SERVPRO of Northeast Collin County/Greenville is here to help!
Possible signs of mold:
Water damage: Unattended water damage can lead to mold, as moisture creates an ideal environment for mold spores to thrive.
Leaks: If there is a leak in your home, it can eventually lead to water damage as well as produce prime, moist conditions that mold requires.
Humidity: When a home has humid conditions, the moisture in the air is higher. High humidity can produce condensation and excess water, providing an ample food source for mold spores.
Condensation: A lot of condensation means that there is a lot of moisture and there could potentially be a mold problem. Mold can grow anywhere where there is condensation build up.
Warping: Materials such as drywall and wood can warp if moisture is present. Warped walls may mean a mold problem is present.
Deterioration: Moisture issues can lead to paint chipping, wallpaper peeling, and other materials deteriorating, so keep an eye out for deterioration in your home.
How we can help:
Our professionals at SERVPRO of Northeast Collin County are trained in determining not only how much mold is present in your home and where any growths are located at, but also where water may be coming from. We have technology that allows us to see inside your home's structure and see where humidity has collected.
Once we know where the water source is, we can fix the problem. We can begin to dehumidify your home with our commercial-grade equipment. We will then inspect for the damage that mold can cause and explain to you the best course of action for your particular situation. We have the training and experience, alongside the latest equipment and current IICRC certifications to help make it "Like it never even happened."
Call SERVPRO of Northeast Collin County/Greenville 24/7 at (972) 548-6044.
We service McKinney, Farmersville, Greenville, Anna, Murphy, Commerce, Celeste, Caddo Mills, Princeton, Wylie, Lavon, Parker, Fairview and Lucas.