Water Damage Restoration
6/15/2020 (Permalink)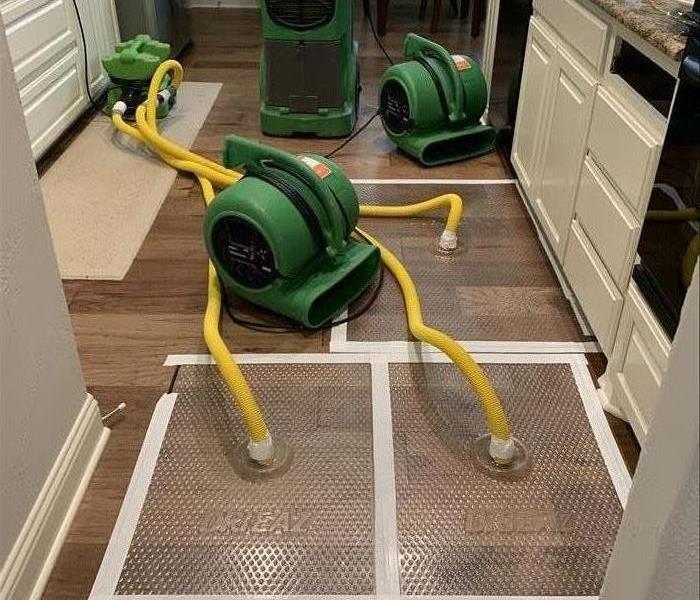 Injectadry mats were placed in a client's home to protect the faces of her hardwood flooring and rapid dry.
Now that businesses are beginning to open their doors, the possibility of water damage is much more prevalent. Old pipes that have been sitting dormant during the stay in home order may now be susceptible to leaks. When water damage is present, it spreads quickly, heightening the chances of mold growth and damage to your business or home. It is crucial that the affected areas are properly mitigated as rapidly as possible, and at SERVPRO of Northeast Collin County/Greenville, we have our service professionals ready 24/7.
What is water damage? Water damage is any harm that is caused by water, which includes flooding, leaks, pipe bursts, appliance malfunctions and many more. Not only can the water ruin your carpets, ceiling, and furniture, but it can also destroy precious family possessions, important documents, and irreplaceable personal items. At SERVPRO Northeast Collin County/Greenville, we understand how important it is to protect your personal belongings and documents, and we will set an immediate plan of action to remove or protect your items, while our highly trained and certified experts mitigate the affected areas to prevent further damage or mold development.
We understand that when you call us, you may be feeling confused, stressed, and vulnerable. You need an expert to guide you through this crisis. SERVPRO of Northeast Collin County/Greenville is a team of certified water technician specialists with the proper equipment and training to handle your needs. Our experts will assess the damage, extract and mitigate the water damage and develop a drying plan to make water damage in your home or business "Like it never even happened." We will keep you updated every step of the way so you can feel confident after disaster strikes.
About SERVPRO of Northeast Collin County/Greenville
SERVPRO of Northeast Collin County/Greenville specializes in the cleanup and restoration of residential and commercial property after a fire, smoke or water damage event. Our staff is highly trained in property damage restoration. From initial and ongoing training at SERVPRO's corporate training facility to regular IICRC-industry certification, rest assured our staff is equipped with the knowledge to restore your property.
Call SERVPRO of Northeast Collin County/Greenville 24/7 at (972) 548-6044. We service Anna, Caddo Mills, Celeste, Commerce, Fairview, Farmersville, Greenville, Lavon, Lucas, McKinney, Murphy, Parker, Princeton and Wylie.